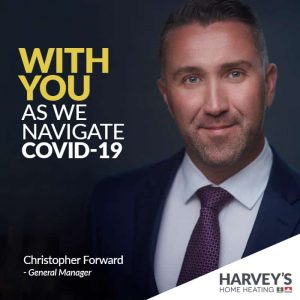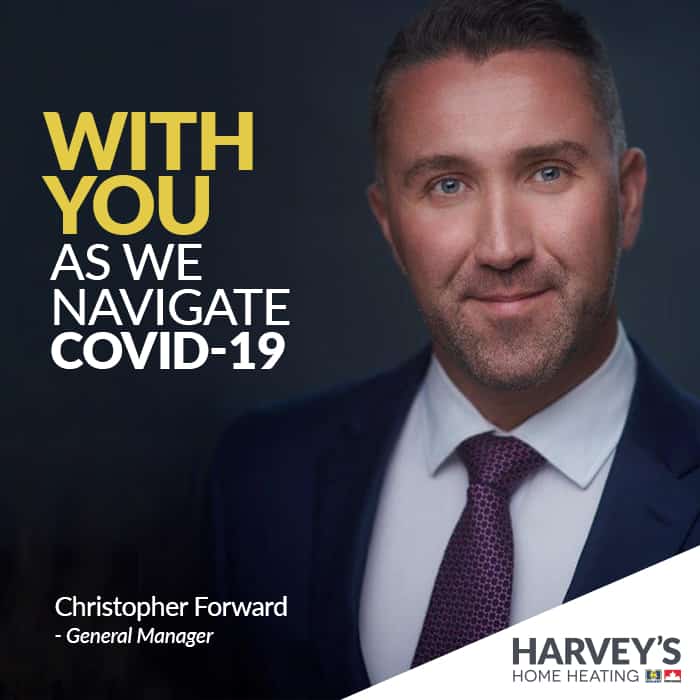 As the world works to meet the challenge of COVID-19, Harvey's Home Heating is doing the same right here, putting the safety of people we serve and work with at the forefront.
Being here for our customers means keeping them safe and our team safe too. We've been hyper-vigilant in achieving this, by transitioning our office staff to rotating work or work from home schedules, reducing touch points for all our frontline workers, and implementing thorough pre-screening protocols for customers.
I'm so proud of the Harvey's team and I thank each one for their vigilance and dedication. To Harvey's customers, I extend our thanks for your business this past heating season, and your patience and understanding in uncertain times. We have ample supply and are ready to continue serving you, our warmest friends.
Warmest regards,
Chris Forward
General Manager
How do I order oil during COVID-19?
You can still place your order at 726-1680, our phones are always answered 24/7. Or you can place your order through our secure online portal.
Are we performing tune-ups?
Currently, we are only responding to trouble calls. If you notice a performance issue with your furnace, please contact 726-1680.
How can I pay my bill?
You can contact our office at 726-1680 and pay by credit card or pay through your own financial institution or through our secure online portal.
Will the COVID-19 situation affect my deliveries?
Our supply is in order and our deliveries are on time. Don't worry, we'll get the warmth to you as we always do.
What is Harvey's doing to protect me and my family, and their employees?
We are committed to the safety of both our customers and our front line employees. We have implemented safety protocols for our delivery drivers and service technicians to keep both our customers and them safe during the COVID-19 pandemic.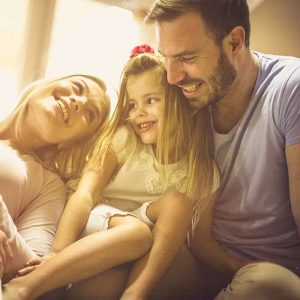 Will Harvey's respond to a trouble call at my property?
Yes, our technicians are still on call in case your system malfunctions. All customers will be thoroughly pre-screened prior to a technician being despatched to your property. For service issues please call 726-1680, our phones are always answered 24/7.
Are we leaving a paper copy of the delivery ticket?
No, at this time we are eliminating touchpoints for our drivers and will be returning delivery tickets to the office. To sign up on e-billing to have your invoice emailed to you contact sales@harveysoil.com.
What happens if my furnace needs repair or replacement?
We are still making service calls, with special precautions to protect you and our technicians. When you call for repair or replacement service, we'll explain the protocols to you. Remember, Harvey's is always here when you need us.