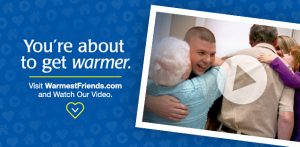 Harvey's Home Heating shared the warmth today with the launch of a video, devised by our team, to reunite a family separated by distance.
"We've know the Doucette family for nearly 30 years, so when we heard about the grandbaby they'd hardly seen, and how they'd been missing their son and daughter-in-law, we knew they were the right family," says Chris Forward, General Manager at Harvey's Home Heating, explaining why the Doucette's were chosen.
Staff at Harvey's came up with the idea to reconnect a family, separated by distance, when asked to brainstorm on how to add a little warmth to the holidays.
The video can be viewed at warmestfriends.com
"Many of us shed a few tears when we unveiled the surprise and I was so proud of our team."
Harvey's flew home the Doucette's son, daughter-in-law, and their two children for a two-week vacation, which included a big family dinner at the Patten House.
Management and staff decided to set up hidden cameras to capture the reveal so as to share the moment with friends and family far and wide.
"I never thought a company would do something so nice for our family. Thank you for bringing us together," says Eileen Doucette.
In addition, Harvey's Home Heating announced today they would donate an additional $2,500 to the Boy's and Girl's Clubs of St. John's, one of the company's favourite charities, should the video receive more than 25,000 views before the end of October.
"At Harvey's, the people we work for mean a lot to us," Forward says. "We have long relationships with them and care about their satisfaction. We loved bringing this family back together."