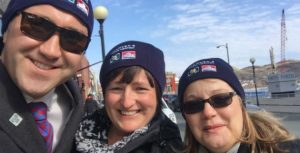 Feb. 29 was one of those really cold days. There was no snow on the ground and everything was white from the salt. As my mother used to say "the wind would cut right through ya." But we took a stroll on Water Street at lunchtime anyway to share a little warmth with our downtown neighbours.
A wonderful walk
We stopped in at Fog Town where some heads may have been a bit colder after their haircuts. We also pulled over a few cabs, 'cause waiting in the car can get chilly too! We took a few selfies along the way and surprised tourists and locals alike. We also gave some hats to those most vulnerable in our city.
It was a small act, but something we wanted to do to make the freezing day a little more bearable.
Find out more
For us, the smiles and thanks were worth every minute of the bitter cold. We're so lucky to be part of this downtown community.
Watch our video here and be sure to Like our Facebook page for more of Harvey's good news stories.
Have you got a Warmest Friends or pay-it-forward story to tell? Get in touch!
Warm Regards,
Chris K. Forward